---
I have a question regarding figure 16.2 in Microeconomics Theory
and Applications. Browning and Zupan 12th edition. Pictured below.
I do not understand the creation of this demand curve because the
way the textbook explains it, it seems like the firm would not be
at their profit maximizing level. For example, the book says that
when the wage rate drops from 300 to 200 it will employ five more
workers. So at that point it is at the profit maximizing level.
However, it says in addition to these five new employees, it will
add capital as well shifting the curve to point C. Would this not
add costs above the point where MVP=w. I may understand. Is it
because adding capital has its own MVP curve and the additional 2
units of capital MVP equal the cost of capital? Thank you!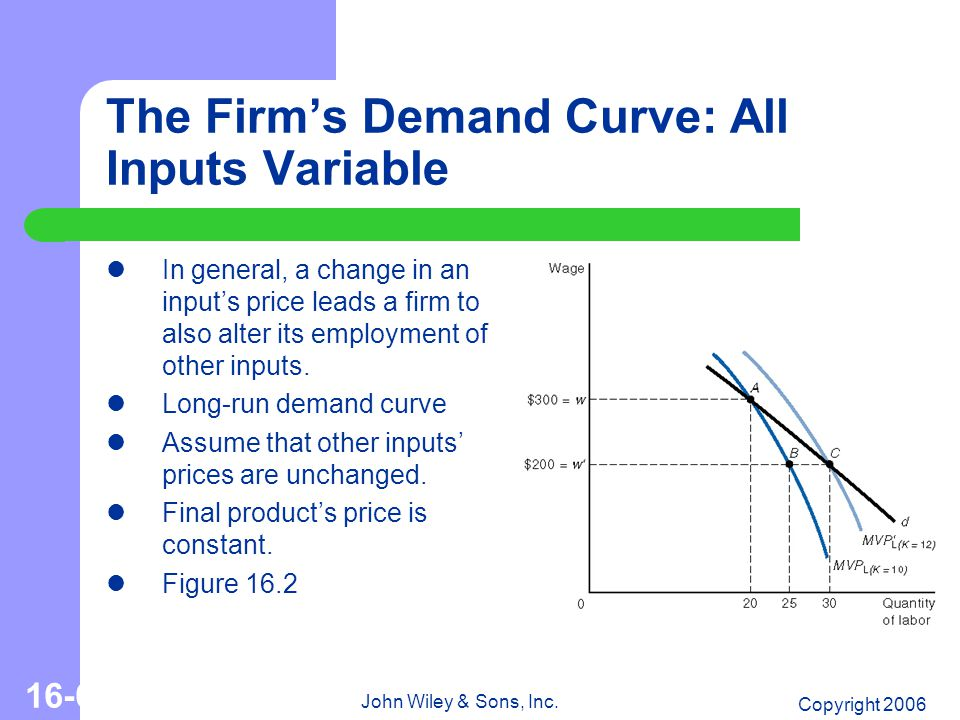 Show transcribed image text 16 The Firm's Demand Curve: All Inputs Variable In general, a change in an Wage input's price leads a firm to also alter its employment of other inputs. $300 w————— Long-run demand curve Assume that other inputs $200 w prices are unchanged. o Final product's price is constant. MVPI L (K MVP LA 10) Figure 16.2 Quantity 20 25 30 of labor John Wiley & Sons, Inc. Copyright 2006
16 The Firm's Demand Curve: All Inputs Variable In general, a change in an Wage input's price leads a firm to also alter its employment of other inputs. $300 w————— Long-run demand curve Assume that other inputs $200 w prices are unchanged. o Final product's price is constant. MVPI L (K MVP LA 10) Figure 16.2 Quantity 20 25 30 of labor John Wiley & Sons, Inc. Copyright 2006